Flower Arrangements
With the core mission of delighting customers with natural, beautiful and scented flowers and verdure, we showcase a perfect blend of elegance, art and class. We are passionate about crafting exquisite-class flower arrangements while picking the finest assortment of cut roses that are awe-inspiring and boast a variety of scents.
All our bouquets, wreaths, flower jewellery, wedding garlands and buttonholes are hand-crafted and designed by a team of deft and experienced florists, while meeting all your unique requirements. Our exquisite collection showcases a galore of classics like orchids, lilies, tulips, daffodils and roses that let you embrace seasonality, exhibiting a series of shades, varieties and styles.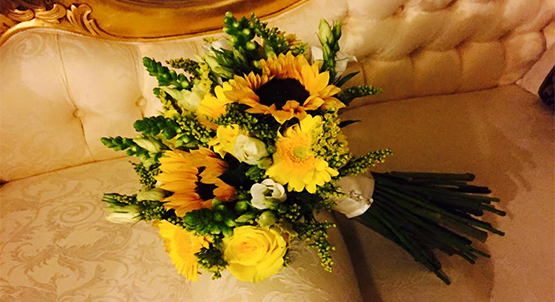 Bridal Bouquets
Wedding bouquets are an exquisite classic and ravishing accessory which, enhance the intensity of nuptial bliss. Our expert team of florists will help you to bring life into your aspirations, while adding a sense of personal touch for the bride & groom, ushers, bridesmaids and special guests.
Every bouquet we prepare is dealt with care and precision. Our maestro florists boasts a unique blend of creativity, skills and an observation for detail required for crafting an exquisite and magnificent bridal florist.
Flower Jewellery
Aelia Events is the veteran name in offering handmade floral jewellery including necklaces, bracelets, earrings, brooches, chokers, pendants, cufflinks, rings and more. Using flowers for crafting jewellery might prove to be quite challenging. Adhering the same, the flowers are cultivated, curated and picked by inducing advanced approaches, methods and our extensive skillset.
Garlands and Buttonholes
With the key expertise to blend excellence and innovation, we have been acclaimed as the pioneer name in the florist industry. We have attained rich experience in preparing wedding garlands and buttonholes which, exhibit the exact design and specifications that you have been longing for. Our key focus is to endow our clients with the highest extent of freshness, vibrance, vogue and personalization.